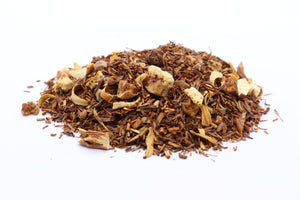 Apple Cinnamon Rooibos is a flavorful herbal infusion that combines the natural sweetness of rooibos tea with the warm and comforting blend of apple and cinnamon. This caffeine-free tea offers a soothing and aromatic experience, perfect for those who enjoy a cozy and flavorful beverage without the stimulating effects of caffeine.
The base of apple cinnamon rooibos is typically made from rooibos tea, also known as red bush tea, which is derived from the leaves of the Aspalathus Linearis plant native to South Africa. Rooibos tea is naturally sweet and has a smooth and earthy flavor profile, making it a popular choice for herbal infusions.
HOT BREW Steeping Instructions
Use 1 tsp per 8oz, add boiling water (97C), steep for 5-10 minutes. For best results, use filtered water and sweeten to taste. Can be steeped in milk. 
Ingredients
Finest South African Rooibos, apple cubes, cinnamon, orange blossoms, natural orange flavour