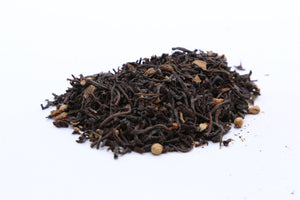 Our best selling chai!! Steve's take on a traditional chai tea, which uses an Orange Pekoe Black Tea instead of a traditional Assam for a more mellow flavour. For a special treat, steep in warm milk. Can be enjoyed hot or over ice.
HOT BREW Steeping Instructions:
Use 1 tsp per 8oz, add boiling water (97C), steep for 3-5 minutes. For best results, use filtered water and can be sweeten to taste.
Ingredients
Luxury Black Tea, Cinnamon, Ginger Root, Black Pepper, Coriander Seed, Star Anise Seed, Cardamon, Cloves & Bourbon Vanilla