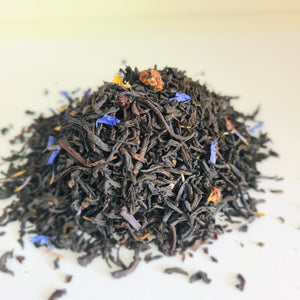 Blackberry Cream Earl Grey Black Tea combines the classic Earl Grey flavor with the delightful addition of blackberries and a creamy vanilla undertone. This blend features the bergamot-infused black tea, known for its citrusy aroma, alongside the natural sweetness and tartness of blackberries. The hint of cream adds a smooth and indulgent touch to the overall profile. This tea is an excellent choice for those who enjoy the fusion of traditional black tea with fruity and creamy elements.
HOT BREW Steeping Instructions 
Use 1 tsp per 8oz, add boiling water (97C), steep for 3-5 minutes. For best results, use filtered water and sweeten to taste. Can be steeped in milk. 
Ingredients
Luxury Black Tea, blueberries, cornflower petals, Calendula petals, Natural Oil of Bergamot & Natural Flavours