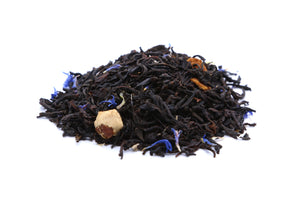 Silky Blueberry flavour with hints of Earl Grey.
HOT BREW Steeping Instructions 
Use 1 tsp per 8oz, add boiling water (97C), steep for 3-5 minutes. For best results, use filtered water and sweeten to taste. Can be steeped in milk. 
Ingredients
Luxury Black Tea, blueberries, cornflower petals, Calendula petals, Natural Oil of Bergamot & Natural Flavours
Can't be blue with this one!
It had been a little while since I had last sipped this one, but a cuppa reminded me how good it is. Blueberry is a subtle flavour, but it is nicely blended and balanced with the other flavours in this tea. The result is a sweet (but not too sweet) Earl Grey with notable blueberry undertones. Very nice.