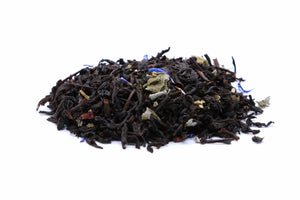 Bright bergamot flavour with a full raspberry character and a vanilla finish. Destined to be your new favourite! Can be enjoyed as a tea latte hot or iced.
HOT BREW Steeping Instructions:
Use 1 tsp per 8oz, add boiling water (97C), steep for 3-5 minutes. For best results, use filtered water and can be sweeten to taste. Can be steeped in milk. 
Ingredients
Luxury Black Tea, Raspberry Leaves, Calendula Petals, Natural Oil of Bergamot & Natural Flavours
Soothing
While I'm looking for a kick with my black tea, this earl grey is more like a kiss, and I love it. It's sweet, but not overwhelming. Whatever is being used to get that raspberry flavour is light and not saccharine.