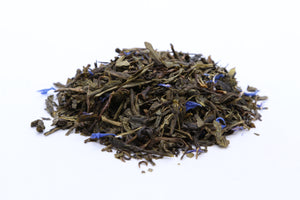 The Green Tea version of our best selling Cream Earl Grey Black tea. Amazing Cream Earl Grey taste with a smooth green tea base.
HOT BREWING Steeping Instructions
Use 1tsp per 8oz of hot NOT boiling water (approx 85C), and steep for 1-3 minutes. For best results, use filtered water and sweeten to taste.  
Ingredients
Luxury Sencha Tea, Cornflower Petals & Natural Flavour