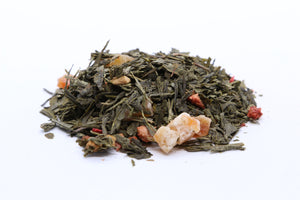 Strawberry Green Tea is a blend that infuses the delicate and grassy notes of green tea with the luscious and fragrant flavor of ripe strawberries that tastes like summer. It creates a harmonious balance between the earthy undertones of the green tea and the bright and tangy sweetness of strawberries. This tea is perfect for those who appreciate a light and fruity profile in their iced tea.
HOT BREWING Steeping Instructions
Use 1tsp per 8oz of hot NOT boiling water (approx 85C), and steep for 1-3 minutes. For best results, use filtered water and sweeten to taste.  
Ingredients
Luxury Sencha Green Tea, Papaya Pieces, Strawberry Pieces & Natural Flavours