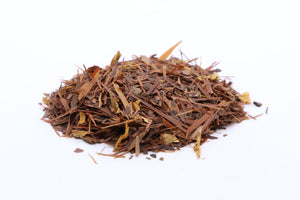 Pau D'Arco, also known as Lapacho, Taheebo or the tea of the Andes, is extracted from the inner bark of the Lapacho tree and with a fruity body. This tastes like if Green Tea and Rooibos had a beautiful fruity baby; You get the lightness of the green and the depth of tannins of a Rooibos. Can be enjoyed hot or iced.
DO NOT DRINK IF YOU ARE PREGNANT OR BREASTFEEDING
HOT BREW Steeping Instructions:
Use 1 tsp per 8oz, add boiling water (97C), steep for 5-10 minutes. For best results, use filtered water and sweeten to taste. 
Ingredients
Luxury Lapacho, Sunflowers & Natural Flavour