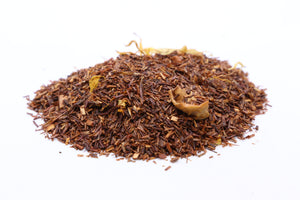 More like a desert than a tea! A tasty combination of real apple pieces and bits of caramel in a refreshing red tea base.
HOT BREW Steeping Instructions:
Use 1 tsp per 8oz, add boiling water (97C), steep for 5-10 minutes. For best results, use filtered water and sweeten to taste. Can be steeped in milk. 
Ingredients
South African Rooibos, South African Honeybush, Caramel (sugar, condensed milk, glucose syrup, milk powder), Apple Pieces, Marigold Blossoms & Natural Flavouring