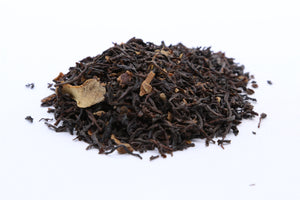 Close your eyes, take a sip, and imagine soft summer breezes, warm sandy beaches and the Jamaican sun. This Chai will take you there!
HOT BREW Steeping Instructions:
Use 1 tsp per 8oz, add boiling water (97C), steep for 3-5 minutes. For best results, use filtered water and sweeten to taste. Can be steeped in milk. 
Ingredients
Luxury Black Tea, Cinnamon, Allspice, Orange peels, Licorice Root, Cloves, Cardamom, Lemon Peels, Star Anise, Natural Flavours