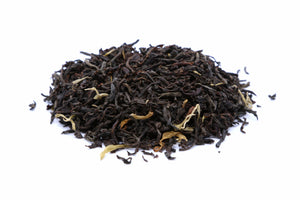 Fresh lemon taste with overtones of cream.
HOT BREW Steeping Instructions:
Use 1 tsp per 8oz, add boiling water (97C), steep for 3-5 minutes. For best results, use filtered water and sweeten to taste. 
Ingredients
Ceylon OP, Calendula blossoms, Natural Lemon Cream flavour
One of a kind
I found this site in my search for a lemon cream black tea. I mistakenly bought 200 g, but I think I instinctively knew I was going to fall in love because the bag is now empty, and I think it's only been a little over 2 months. This has a nice blend of citrus with a wee bite at the end. It's still a black tea after all.