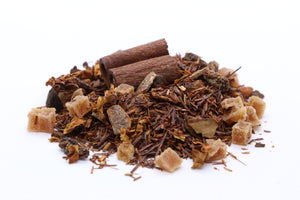 Warm cinnamon notes dance around a deep fruity base. A truly delicious afternoon tea!
HOT BREW Steeping Instructions:
Use 1 tsp per 8oz, add boiling water (97C), steep for 5-10 minutes. For best results, use filtered water and can be sweeten to taste. Can be steeped in milk. 
Ingredients
South African Rooibos, Candied Papaya pieces (papaya, sugar), Raisins, Cinnamon sticks, Plum pieces (plum, rice flower), Rose petals, Cinnamon & Natural flavours.