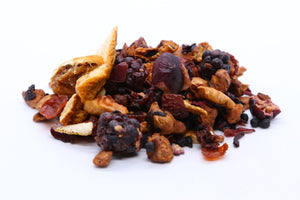 Bright and bold with blueberry, raspberry highlights and refreshing citrus notes. A healthy taste sensation that can be enjoyed hot or cold.
HOT BREW Steeping Instructions:
Use 1 tsp per 8oz, add boiling water (97C), steep for 5-10 minutes. For best results, use filtered water and can be sweeten to taste.
Ingredients
Dried Apple, Hibiscus, Rosehip, Elderberries, Orange Peel, Orange Slices, Blueberries, Sour Cherries, Raspberries, Cranberries & Natural Flavours