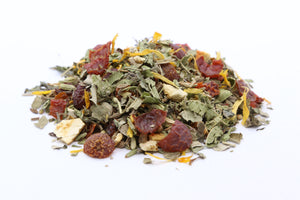 Blended with relaxing Valerian Root, calming fennels and star anise, and cool, soothing Peppermint can help you sleep well tonight! Can be enjoyed hot or iced.
HOT BREW Steeping Instructions:
Use 1 tsp per 8oz, add boiling water (97C), steep for 5-10 minutes. For best results, use filtered water and can be sweeten to taste.
Ingredients
Valerian Root, Rosehips, Fennel, Star Anise, Lemon Verbena, Blackberry Leaves, Peppermint, Orange Peel, Calendula Petals & Natural Flavours