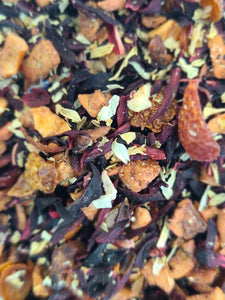 There's a reason this tea quickly became one of our best sellers!!! A sweet peach treat, appealing to children and adults alike. Makes a great iced tea, or served on a cool evening with a pinch of cinnamon.
HOT BREW Steeping Instructions:
Use 1 tsp per 8oz, add boiling water (97C), steep for 5-10 minutes. For best results, use filtered water and can be sweetened to taste.
Ingredients
Apple, Rosehip, Hibiscus, Peach Pieces, Chamomile + Calendula Petals & Natural Flavours